HiFi Clinic – Vintage Stereo Console Experts
The HiFi Clinic is the finest recovery, restoration and studio clinic since the Reagan administration. We are the vintage stereo console experts for people with acquired tastes and who like to think different.  We answer your questions like:
Our team of highly trained experts answers your questions to bring the beauty of Mid-Century Modern to your life, turning your dreams into memories.  See our instagram feed for inspiration about our past projects and secret finds while also getting to know our entertaining side.
HiFi Clinic Studio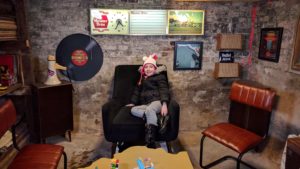 The HiFi Clinic is also the finest studio clinic around, hosting our friends from the HiFi Critics to record and broadcast their tremendously popular show.  Follow our local heroes as they analyze the best in national politics, Chicago swampery and the music industry.
The HiFi Clinic Studio is available for rental for the finest events, including weddings, major sporting events and kids birthday parties. Never mind that we don't have any photos of these events because we turn your dream into reality! Who says that the kids are the only ones who get to have fun?
HiFi Clinic Vintage electronic rental
We have restored many vintage electronics over the years and offer them for rent to any commercial, tv or film production companies that need a mid-century modern look. See a list of all available vintage electronic prop rentals and contact us today to schedule an up close look.
We buy vintage stereo consoles
If you want your vintage stereo console to go to a good home, we are always looking for ways to save the Earth.
Stereo Console Information
Want more information about the stereo console industry, check out our stereo console blog for the latest updates.
modern stereo console: solfari
Looking for a modern take on these mid-century masterpieces? We are taking pre-orders for our first production product: the Modern Stereo Console.