HiFi Clinic Swag Shop
Want to live the HiFi Clinic lifestyle? Dress to impress and channel your inner rat pack.  Shop our HiFI Clinic swag shop for all the best HiFi Clinic lifestyle necessities.
Die Cut Stickers
The 1.88″ x 2″ guitar pick shaped HiFi Clinic sticker logo is our most popular item. Great for covering up that failing mac logo on your $2k laptop.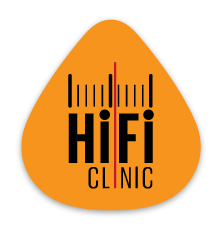 Iron On Patch
Dress up your wardrobe with the patch that is of such professional quality that people will ask if you are shopping Tommy Hilfiger again.
Button Pin
A new addition to our catalog is the button pin that can be stuck anywhere to show people that you know what time it is – Mid-Century Modern time!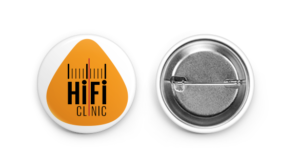 Branded Shirt
For the most dedicated only, we offer a Dickie's shirt with the iron on patch perfectly placed. We do the work so you can live the HiFi Clinic style within days.