Grundig 59M20 Stereo TV Console
An instant classic, when we saw this one for sale on Craigslist, we had to act fast! As you can see, this is a unique combination Grundig 59M20 Stereo TV Console that will stop even Jabba the Hut from fleeing for cover. Wait until he sees his image projected on the screen.
What makes this such a special stereo tv console is:
Combination stereo and tv – There are not many of these in working order and it's rare to have a combination like this.
Condition – The cabinet is in nearly new condition after 65 years. Nuff said.
Style – The high gloss dark style feels modern even today compared to natural wood colors and stains.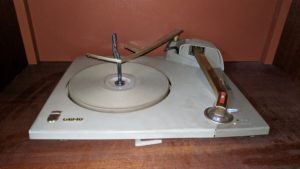 Here is this console on RadioMuseum's site.