Grundig SO 302 Stereo Console
The original stereo console that started it all here at the HiFi Clinic. The Grundig SO 302 is the quintessential stereo in our collection. What makes this one special is the compact size, classic MCM design and top face access to the turntable and electronics. See more information about why this is the top of the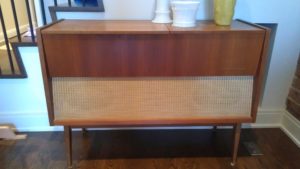 We restored the electronics and turntable first with many common issues arising during the restoration process. Some of the electronics challenges are explained on the electronics restoration tips page and mechanical issues covered on the mechanical restoration tips page.
Before we cleaned the electronics face plate, we snapped a picture to share. You can see 50 years of grime on there!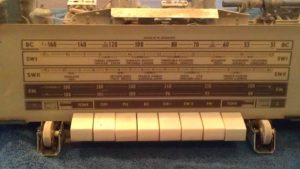 Next, we tackled the refinishing of the cabinet. Below is an example of that process: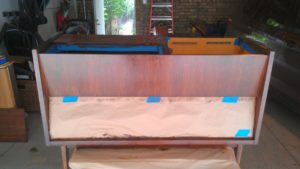 We covered the full details of the restoration in our cabinet restoration tips page. This was a great experience and with a high degree of satisfaction.
This stereo console is also available for rental in our vintage electronic rental collection.  For more details on this model, check out the characteristics on the great Radio Museum's site.