Grundig Rosita KL 3800
The finest tabletop stereo in all of Germany, the Grundig Rosita KL 3800 is a three piece stereo: radio, turntable and cassette player. The stereo fits on the top of a table and has a smoky plastic cover to keep the dust out.
We acquired ours on the German equivalent of Craigslist: eBay Kleinanzeigen. Using a delivery service to have it delivered to Cologne, it was a great deal for 200 €.  Rather surprisingly, these seem to be in relatively plentiful supply, probably due to the 1977 year made.

Cassette Player
We're loving the cassette player that is included. The cool analog meters and numerous dials allow for a lot of control.  Also, as you can see in the picture below, we have a cool bluetooth cassette converter to double down on the usefulness of the cassette player.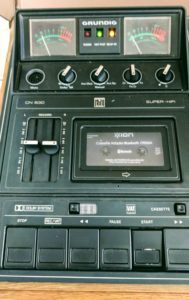 Turntable
The turntable on the Rosita KL 3800 is a belt drive model. The belt fell off in transit, but with a little ingenuity, we took off the rubber mat to re-thread on the belt, which was in very good condition.
The needle was bent upon arrival. Probably not due to the transit, but just normal wear and tear from past years of abuse.  Fortunately, we have a great source and helpful contact at The Voice of Music for all our turntable needs.