Grundig KS 750 Stereo Console
We acquired this beautiful Grundig KS 750 Stereo Console in Racine, Wisconsin from the original owner who was raising money in a local fundraiser. The beauty of this stereo console is that the turntable loading is on the top and the great shiny gloss surface.
Original Condition: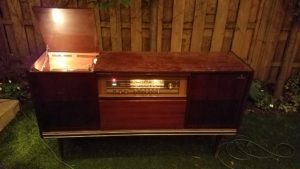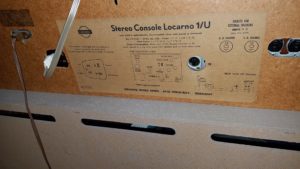 Restored and Cleaned Up
Here is the Locarno in my office with a few of my favorite records dressing it up a bit.  Soul Asylum – Grave Dancers Union, Liz Phair – Exile in Guyville and Numero Group – Boricua de Chicago.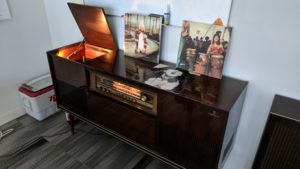 Below the electronic controls, there's a space for storing records and other things.  I believe you could store about 50 records in that space.  Ahhhh…
Here's a link to the Radio Museum's listing for the Grundig KS 750.