Zenith 19R22 TV – 1955
Although the HiFi Clinic began by restoring vintage Grundig stereos, we branched out into vintage TVs to challenge ourselves and be all that we can be. We found our first tv discovery, a Zenith 19R22 TV, on Craigslist. With a little bit of ingenuity and some old fashioned hard work, we were able to get this classic working without any restoration!
This workhorse tv has a bright signal and simple electronics since no secondary input exists for something like a record player. We began by watching this tv without restoration, which turned out not to be a good idea.
Here's what it looked like before any restoration occurred: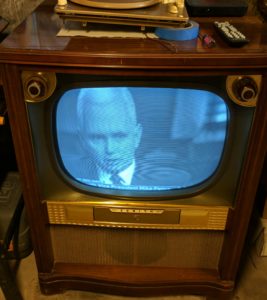 We watched it for between 40 and 80 hours over several months.  Although the picture quality didn't deteriorate,  the picture is distorted.  Once a tuning variable capacitor broke, we had to undertake the entire restoration process. This turned out to be a great learning experience.
Here's what the electronics looked like upon opening the back of the cabinet: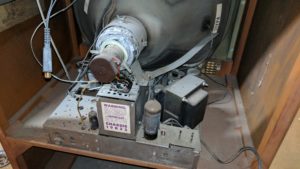 Some resistors that floated well beyond their 20% tolerance range caused the distorted picture.  When I first started testing things, I was nervous about 10%, but quickly realized, with the help of the online community, that a doubling or halving of the resistance is what caused the distortion.
Here's how a tv test pattern looked after restoration: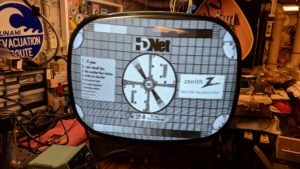 And the final product is now the workhorse of the HiFi Clinic showing digital over-the-air tv channels, Chromecast casting and Wii Rockband. It is a hit with guests of all ages!