Zenith 22R21 TV
This was our first tv acquisition. We intended to acquire a stereo console, but didn't like it and happened to stumble upon this beauty, a Zenith 22R21 TV with a tag: "Sounds works. Picture doesn't. $50".  The quality of the cabinet was very good and we were arrogant to think that we could fix anything so we took it on the spot. It would turn out to be a long, grueling road to salvation.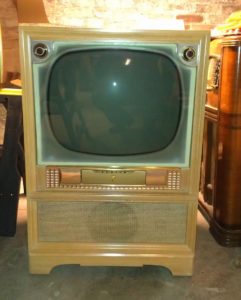 After checking nearly every capacitor, resistor and connection, it turned out that the main issue was the pin connectivity. More info to come on this topic in our mechanical restoration tips section.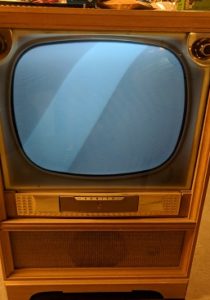 Restoration has taught us a ton and continues to this day.  We have a raster on the screen, which is when the screen powers up, but the tv tuning signal, which is on a separate circuit, is not showing on the tv. This state is good to show the tv is generally working, but now the detailed part to find out what's wrong.